Still working to recover. Please don't edit quite yet.
Pjotr Kropotkin
From Anarchopedia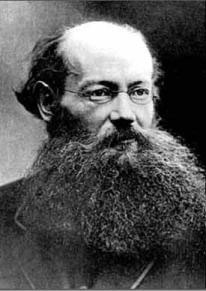 Ruhtinas Pjotr Aleksejevitš Kropotkin (Пётр Алексе́евич Кропо́ткин) (9. joulukuuta 1842 - 8. helmikuuta 1921) oli venäläinen anarkisti ja maantieteilijä.
Kirjoissaan (esimerkiksi englanniksi kirjoitetussa teoksessa Factories, Fields and Workshops, 1898) Kropotkin hahmotteli sosialistista, hierarkiattomasti järjestettyä yhteiskuntaa, jossa tuotanto on järjestetty pitkälti paikallisella tasolla.
Maantieteilijänä hän tutki esimerkiksi Ruotsissa ja Suomessa jääkauden ajalta peräisin olevia kerrostumia.
Kropotkin kirjoitti myös kirjan Mutual Aid: Factor in Evolution (1902), jossa hän argumentoi aikalaistensa, mm. T.H. Huxleyn, sosiaalidarvinismia vastaan, että evoluutiossa kilpailun sijaan keskeistä on yksilöiden välinen auttaminen. Lajien yksilöt tekevät yhteistyötä keskenään, ja näiden yhteistyön muotojen kehittyminen on tärkeää lajin selviytymisen kannalta.